History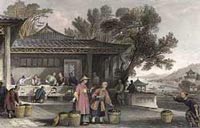 For more than four generations, lei family has been in tea growing and production, dedicated to making quality tea with character and flavor. Family legend told that in 1868, Lei Yi, my mother's great grandfather joined Hu Yuanlong (who was considered as the father of Keemun Black Tea ) in traveling to Fujian province to learn the secrets of black tea production. Absorbing their production know-how and going through a number of trials, they finally succeeded in making Keemun Black Tea in 1874.
Fruity, toasty, full-bodied and orchid fragrant, Keemun Tea appreciated by oversea people quickly gained popularity in the international tea profession. It is said that Keemun Mao Feng became one of the favorite tea of the Queen of Victoria. During 1939-1940, the price of premium Keemun Tea at the New York trade center recorded the highest figure. In 1880, my great-grandfather Lei Kuanwu established his first tea house in Hangzhou, mainly selling Keemun Black Tea, Chun Mee Green Tea and some loose leaf speciality tea such as Huangshan Mao Feng, Liu An Gua Pian, Longjing Tea and Silver Needle White Tea.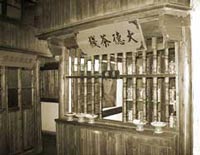 His business prospered. By the end of 1915, he had already owned two tea gardens, one tea factory and five tea stores. My grandmother told me that he was a traditional well-educated chinese who followed confucianism all his life. Even in business, he adhered to his principles and beliefs of a confucian. I think that these ideals and beliefs contributed to his business success.
As the old saying goes "tide ebbs and flows", My family's business suffered terribly during the Second World War and the ensuing civil war. At the end of 1940s, it was on the brink of bankruptcy.
But family genes survived and passion passed down. In 1995, my father restarted the tea factory. Through a long tough period, he finally overcame difficulties and made products stand out.
Now we made our website in English version hoping to better promote our teas as well as our values and commitments. Don't ever hesitate to contact us- whether you've got a question, a concern, or a suggestion for improvement - we'd love to hear from you. Thank you so much for your patronage, it means a lot to us.


Facilities
Huangshan City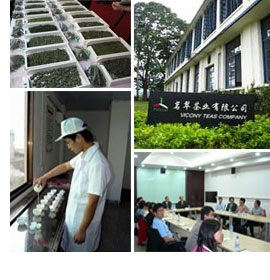 Our head office is situated at Huangshan city, the south of Anhui province. Our Keemun Black Tea and Chun Mee Green Tea is produced in the two factories here. Raw material is sourced directly from tea gardens in Huangshan and then manufactured, graded, packed and inspected for sale. Strict care and hygiene is maintained throughout processing to ensure a product that conforms to internationally recognized quality standards. We are able to process 20 tons of tea at the two production plants on a yearly basis.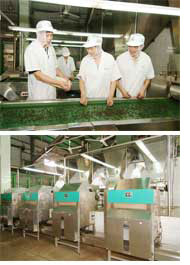 Wuyuan County
The tea powder we provided is made in the plant located in Wuyuan county, the nearby county of Huangshan city. The plant was established in1998 with the state-of-the-art production facilities. Now it can process various kinds of super-fine tea powder (powdered tea) at an annual capacity of 80 tons.
Huangshan city and Wuyuan county, the two adjacent areas are both at the heart of chinese historical tea triangle, the meeting point of some of chinese most famous tea producing areas. Now they both enjoy the reputation of chinese organic tea hometown and have been named as "Golden Triangle of Organic Tea" by both chinese and oversea tea experts.

Tea Gardens
Our tea gardens are scattered in the mountainous area of southern Anhui province and Jiangxi province where is far from city, free of industrial contamination and worldwide known for scenic Huangshan Mountain. Rich in biodiversity and more than 90% covered by forests, the place boasts its nice environment. Sufficient rainfall and higher humidity makes it ideal for growing tea. People living here have been in tea production for over one thousand years and gained much expertise and know-how in tea. At least four of Chinese Top Ten Teas are produced here.
Many tea gardens here have existed for more than 100 years. For generations, people work and live with them. The total work force employed in our tea gardens during plucking seasons every year is over 7000 people and a lot of them are women.
Realizing the significance of sustainability, we are among the first to abandon the use of chemicals, fertilizers, pesticides and genetically modified organisms because we would not make profit at the cost of environment and human health. Now everyone at ViconyTeas is doing his (or her) best to protect it and take part in promoting organic farming among our community.
You can find more photos in our Flickr Album>>Pls Click Here<<
 "In my eyes,the tea growing area seems like paradise not only to me but also to wild animals. Whenever in low spirit I soak myself in the nature's splendor and totally relax myself. Every time,by doing so I can recover from any sadness and frustration."
written by Chen sheng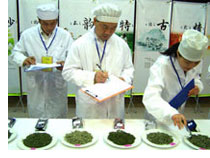 Our Staff
ViconyTeas has assembled an exclusive senior team of professionals with extensive experience in tea cultivation, production and research.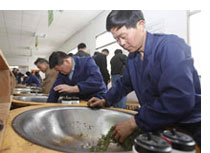 They are talented, hard-working and enthusiastic about tea. Indeed, a number of them have now been renowned tea experts and masters in China, many of whom have won prizes in both domestic and international tea contests and helped ViconyTeas earn a large number of awards, building up a reputation in the tea industry. Some of our tea experts who pioneered in the research of tea cultivation and production have published numbers of articles in the professional tea publications. They are ViconyTeas' pride.

Certificates
| | | | |
| --- | --- | --- | --- |
| | | | |
| | Techniques of making green tea was awarded as "Anhui Province's Intangible Cultural Heritage" in 2006 | | ViconyTeas was awarded the title of "Anhui Province's Top 100 Private Foreign Trade Enterprises Ranked by Export Value" in 2004 |